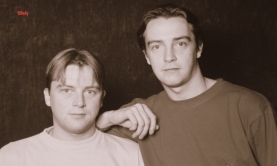 2Defy are Brothers, Matt & Mark Adams from Birmingham, UK.
In 1996 they released "Je t'aime Moi Non Plus", a cover of the sixties classic written by Serge Gainsbourg.
The project which started in 1995 took months to finalise! Sorting out the legalities of being able to use the famous melody, followed by trips back and forth to the studio to satisfy the publishers prior to them giving 2Defy the OK.
After extensive promotion by their Record Company, together with numerous TV, Radio and Newspaper interviews, the track became one of the most requested by its listeners on it's release at one London radio station.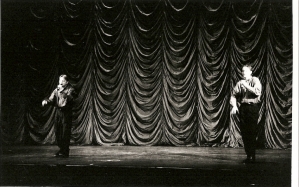 Some 15 years after it's UK release, it became a hit in Belgium after a national radio station put the track on it's play list.
Although these days they very rarely appear on stage together, they do get asked to sing at corporate and charity events.
It was at a charity evening when 2Defy sang "The Dance" and at the end the end of the evening, a guest asked where he could buy a copy. It was then that they decided to get back in to the studio where a new string section was added and Mark sang some fantastic harmonies.
You can hear both songs by clicking play on the icons below.
2Defy - Je t'aime Moi Non Plus 2Defy - The Dance
Thank you for visiting the 2Defy webpage, if you would like further information, please contact matt@2defy.co.uk